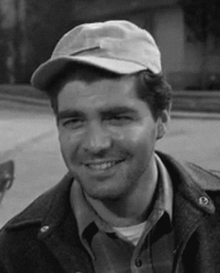 Robert McQuain (June 12, 1934 - December 26, 1999) appeared in fourteen episodes of The Andy Griffith Show.The only child of Jay David and Lena McQuain, "Bob" grew up in the Washington D.C. area, often visiting and spending summers at the McQuain homestead in Elkins, West Viriginia as well. For a while he attended Fork Union Military School as a teenager. Mr. McQuain's big break came when he appeared in an outdoor theatre production in North Carolina, in a role in which actor Andy Griffith had got his own early start. When Mr. Griffith returned to NC for a visit, he caught a performance and met Mr. McQuain. This lead to a subsequent casual friendship as well as several small parts on the 1960s "The Andy Griffith Show." Mr. McQuain was married twice. He had two children, David and Michelle, with his second wife, Mae. In later years he became a licensed real estate agent and broker in Oregon. He also ran, successfuly, for local political office. Tall, with a deep, booming voice, it was hard to forget the friendly Mr. McQuain once you met him. A devoted family man, he had a great interest in genealogy and researched the McQuain family lineage. Mr. McQuain died unexpectedly in December 1999, in Rogue River, Oregon .
Appearances
Edit
Season 1-
Season 2-
Season 3-
Community content is available under
CC-BY-SA
unless otherwise noted.