Floyd Lawson is the owner of Floyd's Barber Shop in Mayberry. He was first portrayed by Walter Baldwin and lastly by Howard McNear.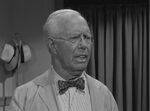 History
[
]
Floyd the Barber (as he was commonly known) was the slow-paced, somewhat absent-minded barber in Mayberry. He was first seen in "Stranger in Town", where he was played by actor Walter Baldwin. Baldwin established the running gag of Floyd's inability to trim sideburns evenly, which continued throughout the run of the show. Baldwin portrayed Floyd for just one episode; from 1961 on, the part was played by Howard McNear, the actor most commonly associated with the role. (In McNear's first appearance as Floyd, the character's last name was "Colby;" thereafter, the character was always "Floyd Lawson."
Family
[
]
Floyd is a widower. He had a wife named Melva and two children, a son and a daughter. His son, Norman Lawson, plays the saxophone (Those Gossipin' Men) and plays baseball (The Jinx). Later in his life, Floyd pretends to be a wealthy bachelor to impress a lady friend.(Floyd the Gay Deceiver). His daughter's name isn't mentioned, but it is known he goes to live with her when he retires. (Gomer Pyle U.S.M.C.) Floyd also has a niece named Virginia Lee who he wanted to win the Mayberry pageant. (The Pageant)
It was implied throughout Season 6 that Warren Ferguson, Barney Fife's replacement as deputy sheriff, was Floyd's nephew, as he often called him "Uncle Floyd". However, once Warren departed, this was never referred to again for the remainder of the series.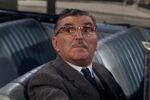 Trivia
[
]
Somewhere around Season Three, the importance of Floyd The Barber in the show decreased because Howard McNear had suffered a stroke and consequently had to change his delivery of dialogue for Floyd from fast-paced to slower and slower as time went on. For the the rest of the series, he was always seen sitting or leaning on sets. The character of Floyd also became less involved in the plots of the various episodes as time went on.
"Floyd the Barber" appears briefly in the opening theme sequence of the 1995 WB cartoon series "Freakazoid!"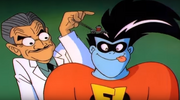 Appearances
[
]
Season 1-
Season 2-
Season 3-
Season 4-
Season 5-
Season 6-
Season 7-
Gallery
[
]
FIND MORE PICTURES HERE: Gallery of Floyd Lawson
See Also
[
]
References