Frances Bavier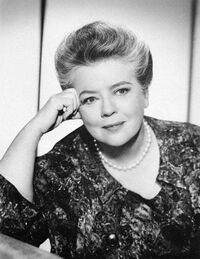 Date of Birth
December 14, 1902
Date of Death
December 6, 1989
Birth name
Frances Elizabeth Bavier
Birthplace
New York City, New York
Cause of Death
{{{causeofdeath}}}

Frances Bavier (Born December 14, 1902 – December 6, 1989 in New York City, NY) played Aunt Bee Taylor on The Andy Griffith Show, Mayberry R.F.D. and one episode of Gomer Pyle U.S.M.C. She also appeared in the Make Room for Daddy episode "Danny Meets Andy Griffith". In 1967 she won an Emmy for her performance on "The Andy Griffith Show".
Film and Television
Edit
Her film appearances include:Girls About Town, The Day the Earth Stood Still, The Lady Says No Man in the Attic, The Bad Seed and the ever popular Benji. For Walt Disney's film Sleeping Beauty, she performed in filmed sequences used for character reference for the three good fairies, Flora, Fauna and Merryweather, alongside actresses Spring Byington and Madge Blake. Although born in New York City, she spent her retirement years in Siler City, North Carolina, near Andy Griffith's hometown of Mount Airy. She is buried in a cemetery in Siler City, being the largest memorial in that cemetery.
Appearances
Edit
Frances Bavier told an interviewer when she retired that her favorite episode was Wedding Bells for Aunt Bee.
Character gallery
Edit