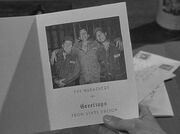 The Hubacher brothers were in the State prison. Even though Andy and Barney sent them to prison, the three brothers seem to have a friendly relationship with them, sending Andy and Barney cards and presents.
Members
[
]
Junior
Elmer - the youngest
The Andy Griffith Show
[
]
The Inspector - Andy and Barney receive a letter from upstate. They are in leather crafts. Brother Elmer had been paroled but returned.
The Christmas Story - they send a Christmas card to Andy and Barney with a photo of them.
Deputy Otis - They have been in jail for two years.