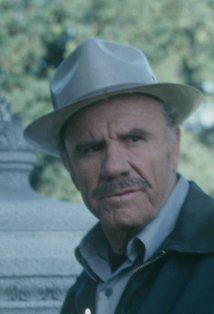 R.G.Armstrong (1917–2012) was an American actor who portrayed Farmer Flint in The Andy Griffith Show. R.G. was born in 1917 and died at the age of 95, July 27, 2012 of natural causes.
Biography
[
]
A golden career was reflected in his name. Robert Golden Armstrong ("Bob" to his friends) was born in Birmingham, Alabama, on April 7, 1917. He attended the University of North Carolina at Chapel Hill. While there he was frequently performing on stage with the Carolina Playmakers. After graduating, R.G. headed to New York, where his acting career really took off. In 1953 he, along with many of his Actor's Studio buddies, was part of the cast of "End As a Man" -- this became the first play to go from off-Broadway to Broadway. The following year, R.G. got his first taste of movies, appearing in Garden of Eden (1954). However, he returned to New York and the live stage. He received great reviews for his portrayal of Big Daddy in the Broadway production of "Cat On a Hot Tin Roof" in 1955. In 1958 he took the plunge to Hollywood -- he appeared in two movies, a TV series, and did numerous guest appearances on TV shows that year, usually in westerns such as "The Rifleman" (1958), "Have Gun - Will Travel" (1957) and "Zane Grey Theater" (1956), among others. He would go on to appear in 80 movies and three TV series in his career, and guest-starred in 90 TV series, many of them westerns, often as a tough sheriff or a rugged land baron. R.G. was a regular cast member in the TV series "T.H.E. Cat" (1966), playing tough, one-handed Capt. MacAllister. During the filming of Steel (1979) in Kentucky, watching the mammoth Kincaid Tower being built, he made some good friends in the cast: "You become a family on the set," he said in an interview at the time. Even though he had a long, versatile career, the younger generation knows him as spooky Lewis Vandredi (pronounced VON-drah-dee), who just wouldn't let the main characters have a good night's sleep on the "Friday the 13th" (1987) TV series. Finally retiring after six successful decades in show business -- his last film appearance was Purgatory (1999) (TV) -- R.G. and his lovely wife Mary are mostly just enjoying life in sunny California, and still travel and vacation in Europe occasionally. His upbeat, fun-loving personality makes him a delight for all who come in contact with him.
Trivia
[
]
R.G. Armstrong was a mentor and close friend to Andy Griffith.
Birth name was Robert Golden Armstrong Jr.
Frequently cast by director Warren Beatty.
Has a masters' degree in English from the University of North Carolina, and trained at the famed Actors Studio in New York.
Appearances
[
]