Searching for a different "Sam"? Try our Sam (disambiguation) page.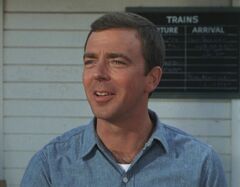 Sam Jones is a farmer and town councilman of Mayberry, played by actor Ken Berry in four episodes of The Andy Griffith Show and in all 78 episodes of Mayberry R.F.D. He is the widower father of Mike Jones.
Appearances
Edit
Sam is one of three characters in TAGS to have their own show in the TAGS franchise. The others are Andy Taylor and Gomer Pyle.