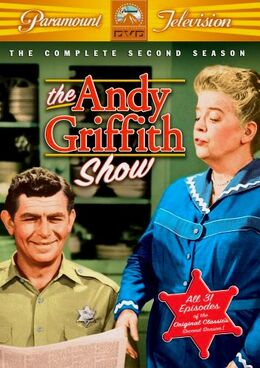 The Andy Griffith Show returned with their second season on October 2, 1961.
Season Overview
[
]
No episode of TAGS is more memorable than Aunt Bee's "kerosene cucumbers." Set in the small town of Mayberry, the television series (1960-1968) followed the hilarious antics of widower, Andy Taylor, played by Andy Griffith, his son, Opie starring Ron Howard, and Deputy Barney Fife, played by Don Knotts. The Andy Griffith Show has achieved cult status as one of television's most beloved sitcoms, based on its stellar cast, pristine comedy, and nostalgic charm. By season two, the series had found its tone and tenor, supported by such classic episodes as, "The Pickle Story", "The Manicurist", "Aunt Bee The Warden", and "Barney and the Choir". The parade of guest stars during season two includes Barbara Eden, Buddy Ebsen, Edgar Buchanan, Alan Hale Jr., Bill Bixby, and Sterling Holloway.
Major Characters
[
]

Episodes
[
]
#
Image
Title
Airdate
01
Opie and the Bully
October 2, 1961
Sheriff Andy Taylor must decide whether to intervene or let the problem work itself out when a bully demands Opie's lunch money at school.
02
Barney's Replacement
October 9, 1961
When an attorney is sent to Mayberry for law enforcement training, Barney mistakenly believes the man is his replacement and quits the police force to become a vacuum-cleaner salesman.
03
Andy and the Woman Speeder
October 16, 1961
Andy gives an attractive young woman from Washington D.C. a speeding ticket. She proceeds to manipulate the townsfolk with her charm and wit in order to undermine Andy's case against her.
04
Mayberry Goes Bankrupt
October 23, 1961
After the town council forces Andy to evict a poor elderly man for not paying back taxes, a 100-year old savings bond issued by the city of Mayberry is discovered among the man's possessions. Now the city apparently owes him $349,119.27.
05
Barney on the Rebound
October 30, 1961
Barney is taken with a new girl in town and he and Thelma Lou have a lover's quarrel and declare their freedom from each other.
06
Opie's Hobo Friend
November 13, 1961
Andy and Opie are going fishing when they come across a wanderer who impresses Opie with his good humor and 'magic fish talk'. The man's name is Dave Browne and it isn't long before Barney hauls him before Andy for vagrancy. Dave isn't booked and he continues to form a bond with Opie.
07
Crime-Free Mayberry
November 20, 1961
The town of Mayberry is awarded with having the lowest crime rate in the country. Two men posing as an FBI agent and press photographer come to Mayberry to congratulate the town. Andy, Barney, and the rest of the town do not realize that the two are actually impostors and partners in crime preparing to rob the Mayberry Security Bank.
08
The Perfect Female
November 27, 1961
When Thelma Lou's attractive cousin, Karen, comes to town, Thelma and Barney scheme to get her and Andy together.
09
Aunt Bee's Brief Encounter
December 4, 1961
Aunt Bee has hired Mr. Wheeler to help with the flowers around the Taylor home. Andy's not to sure about him but Aunt Bee is quite taken with him. When Andy notices how taken with him Aunt Bee is he relaxes and agrees to let him stay on and help around the house.
10
The Clubmen
December 11, 1961
Roger Courtney invites Andy to come up to the state capital and meet the membership committee of The Esquire club and be considered for membership. Andy accepts the offer but tells him he'll be bringing Barney along also. Barney is very excited at the prospect of joining this exclusive club but he's worried that Andy may need a bit of polishing.
11
The Pickle Story
December 18, 1961
Aunt Bee and Clara Johnson are both jarring homemade pickles. The only difference is that Clara's are good enough to have won the blue ribbon at the fair eleven years counting while Aunt Bee's taste like they've been floating in kerosene.
12
Sheriff Barney
December 25, 1961
When Barney is offered the job of Sheriff in a nearby town, he and Andy trade jobs for a day to see what what kind Sheriff he would be.
13
The Farmer Takes a Wife
January 1, 1962
Jeff Pruitt, a farmer from the hills, comes to Mayberry in search of a wife. He expects to spend a single afternoon on his search. He enlists Barney and Andy's help.
14
The Keeper of the Flame
January 8, 1962
Opie joins a secret club and is in charge of the candle they use in their meetings. After the barn where they meet burns down, he is accused by the owner of starting the fire
15
Bailey's Bad Boy
January 15, 1962
Andy teaches self-reliance and responsibility to the spoiled son of a rich man.
16
The Manicurist
January 22, 1962
When a pretty young manicurist starts working in Floyd's Barbershop. The men are uneasy about it at first, but eventually take to the idea in a big way. Their jealous wives, however, do not.
17
The Jinx
January 29, 1962
Barney, Floyd, and other townspeople are convinced that local resident Henry Bennett is responsible for many mishaps that have occurred in Mayberry.
18
Jailbreak
February 5, 1962
The state police come to town to catch some payroll robbers. They want Andy and Barney to stay out of the way and let them handle it. The big boys end up needing Andy and Barney more than they thought.
19
A Medal for Opie
February 12, 1962
Opie decides that he's going to enter the 50 yard dash at the Sheriff's Day boys' races and he convinces himself that he's going to win.
20
Barney and the Choir
February 19, 1962
When the awful sound coming from the Mayberry choir is narrowed down to Barney, the members decide they must get rid of him.
21
Guest of Honor
February 26, 1961
A pickpocket is made guest of honor at a Mayberry celebration.
22
The Merchant of Mayberry
March 5, 1962
Andy and Barney help weary, foot sore salesman Bert Miller set up his goods on a vacant lot.
23
Aunt Bee the Warden
March 12, 1962
Aunt Bee takes it upon herself to reform Otis.
24
The County Nurse
March 19, 1962
A farmer resists the county's tetanus shot program.
25
Andy and Barney in the Big City
March 26, 1962
Andy and Barney travel to Raleigh on business and help catch a jewel thief in their hotel.
26
Wedding Bells for Aunt Bee
April 2, 1962
After Clara convinces Aunt Bee that Andy can't possibly find a wife as long as she's still living with him, Bee begins half-heartedly searching for a man she can marry herself off to.
27
Three's a Crowd
April 9, 1962
Barney frustrates Andy's attempts to become better acquainted with county nurse Mary Simpson.
28
The Bookie Barber
April 16, 1962
When business gets too hectic, Floyd hires a second barber who turns out to be a bookie. Barney goes undercover as an old lady to catch them.
29
Andy on Trial
April 23, 1962
J. Howard Jackson, an unscrupulous publisher and his associate Jean Boswell try to undermine Andy's position in Mayberry.
30
Cousin Virgil
April 30, 1962
Barney's awkward cousin visits and makes a mess of everything he tries. When Andy finds something that Virgil is good at, he finds a way to teach him self-confidence.
31
Deputy Otis
May 7, 1962
Otis is made a temporary deputy so he can impress his visiting older brother.