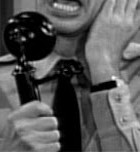 This is a list of characters whose names are mentioned in dialogue, but who do not actually appear on The Andy Griffith Show.
Fletch Roberts (Malcolm at the Crossroads) Works at the depot; needs a bookkeeper.
Fluffy Johnson (Aunt Bee's Crowning Glory) Worked at the gas company who wore false nails.
The Forps (Barney's Bloodhound) Barney is held hostage in their cabin.
Frank (Multiple episodes) Works at the diner with Juanita. Presumably has a high pitched voice for a male because Barney continuously mistakes Frank for Juanita.
Fred Calahan - (The Barbershop Quartet) Great tenor in town but he is dead.
Fred Hartley (Goodbye Dolly): Neighbor of Andy's.
Fred Mason (Barney and the Choir) Was unable to sing in the choir because he worked nights and couldn't make practice.
Fred Paley (Citizen's Arrest) Former sheriff of Mayberry.
Freeburger (Citizen's Arrest) Sewer Inspector who once arrested Barney's dad.
Gilley Parker (Wedding Bells for Aunt Bee): Plays poker, but says he is at choir practice.
George Pershing ( Barney's Sidecar)
Gordon Bellfield (Mayberry Goes Hollywood): Barney tells a story to Andy while they clean the jail cells to prepare for the visit of Mr. Harmon the Hollywood producer to tour Mayberry about Gordon taking a guided bus tour to actor Gary Cooper's house.
Gayle Edwards: Clara Edwards' son
Halcyon Loretta Winslow (The Darling Baby): Barney could have gotten engaged to her but he thought she was ugly. She may be the daughter of Hog Winslow and sister of Hogette Winslow.
Hannah Lou Smith (Ernest T. Bass Joins the Army): Ernest T. Bass broke windows in her greenhouse.
Harley: (Andy's Vacation) Harley tells Andy on the telephone that he has dammed up "Snake Skin Creek".
Harry Blake (Howard the Comedian) President of the Elks Lodge.
Harold Fossett (A Girl for Goober) Has been taking Juanita up to Myer's Lake.
Harper family (Opie's Job): Otis got drunk and drove his car through the Harper's rose garden.
Harvey Bunker (Helen the Authoress): Was a Scoutmaster and dated Mavis Neff
Harvey Willick (The Farmer Takes a Wife): Harvey runs a shoe store and needed a clerk.
Henry Choate (Barney's Bloodhound): Barney said he acquired Blue from him.
Herb Crowley (Andy Forecloses): Has old porch furniture to sell in the rummage sale.
Herb Mason (Goodbye, Sheriff Taylor): Andy's friend from Raleigh, who calls and offers him a detective job.
Hog Winslow (My Fair Ernest T. Bass): Father of Hogette Winslow.
Hogette Winslow (My Fair Ernest T. Bass): Hog Winslow's daughter, whose name is apparently French. Ernest T. accidentally hit her in the head with a rock. A taxidermist sewed up the wound.
Hoadie Snitch (Opie and the Bully): Andy's childhood bully.
Howie Forman (Goober Makes History): Opie's friend who chewed up his pencil.
Howie Pruitt (Aunt Bee's Invisible Beau) Helen's student, who's turning into a real monster
Hubacher brothers (Episode?)
Hugo Hauptfleisch - (Andy's Vacation) An old German soldier that Barney admires. Barney also got some information on how to shine shoes properly from him.
Karen Faulker (Opie's Newspaper): Fell down and hurt her knee at the Elm St. park.
Katherine Palmer (Opie's Rival): She is a friend of Aunt Bee
Mr. Section
Edit
Mrs. Section
Edit
Ms. Magruder (The Bank Job) Barney poses as Ms. Magruder's cousin.
Myra Kountze (The Shoplifters): She works at the lingerie shop. Barney has a story about her, but never gets around to telling Andy about it.
Pete Dooley (The Big House): His truck splashed mud on Mrs.Fletcher
Phoebe Gilbert (Opie's Fortune) Barney took out Phoebe once, to "Blue View" restaurant. She has a sister named Limley Gilbert who works at the beauty shop.
Purcell Branch (Citizen's Arrest): Tyler Branch's father. He was arrested for disturbing the peace.
Sally Higgins (Goodbye Dolly): Aunt Bee started to tell a story about her.
Sam Becker (Episode?): a farmer who lives in "The Old Birch Place" Andy delivered his wife's baby named Andy.
Sam Allen (The Inspector) Andy's friend and state inspector who usually visits the Mayberry jail. Andy and Sam go fishing and frog gigging on Sam's visits.
Sam Burton (The Shoplifters) Is married to Mrs. Burton. Drinks heavily.
Sam Eppley (The Cannon) owns a motorcycle.
Sheriff Patterson (Return to Mayberry) Replaced Andy as sheriff when he left for Ohio.
Sheriff Pinkley (Citizen's Arrest) Andy replaced him as sheriff.
Spooky Vincent (Goober's Contest): Watched Wally's station for Goober
Stuart Simmons (The Bookie Barber) Andy goes to see him in Triplett, NC.
Sarah: Phone Operator for Mayberry
Uncle Nat (The Loaded Goat): Otis (who is drunk) mistakes the goat for his uncle.
Vicky Harms (The Rivals) Use to sip out all the syrup from Barney's sno-cones.
Virginia Lee (The Pageant) She is Floyd's niece and he tried to bribe Andy into her winning.
Viola McConker (Episode?): Gomer saw her walking down to her barn to have a pinch of snuff.
Viola Slat (Ernest T. Bass Joins the Army): Barney doesn't like her; says she is a gossip
Virgil Hodge (The Jinx): Barney said he was jinxed.
Virgina Beasley and Early Gilley (Opie's Fortune): An engaged couple
Community content is available under
CC-BY-SA
unless otherwise noted.