The Andy Griffith Show Wiki... an in-depth encyclopedic guide to the beloved CBS television series. We are a collaborative website about the small-town world of The Andy Griffith Show that first started to grow on September 30, 2008. The wiki format allows anyone to create or edit any article, so we can all work together to create the site. Now, take a stroll into Mayberry.

Opie Taylor—
Opie's relationship with his "Pa" (Andy) provides plot material for many episodes. Andy sometimes misjudges Opie, suspecting him of being selfish and oblivious to the needs of the less fortunate. Andy then often discovers, to his chagrin, that Opie had been self-sacrificing and generous. For example, in one episode, Opie forfeits a grocery store delivery job to allow a boy with an ill father to replace him. In another episode, Opie uses his savings to buy a friend a winter coat after Andy lambastes him for contributing only three cents to a charity.
In the 1986 made-for-TV reunion movie Return to Mayberry, Ron Howard reprises his role as a now-adult Opie. The plot was driven by his father's return to see Opie's wife Eunice Taylor give birth to their first child.
[Read More...]

Man in a Hurry—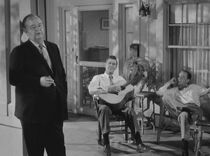 "Man in a Hurry" Big businessman Malcolm Tucker has trouble getting his car to start and finds himself stuck outside of Mayberry on a Sunday. Walking into Mayberry, he finds everyone leaving the church. Reverend Tucker talks on the steps with Andy and Barney, saying he believed his message wasn't reaching Barney. Andy explains it was his own fault, he had Barney up all night on a chicken stake-out. Malcolm approaches and explains he needs help getting his car fixed so that he can get to Charlotte for business. After many unsuccessful attempts at getting out of Mayberry and getting his car fixed quickly, he grows more and more aggravated at how long the process of being in a 'hick town' is.
Eventually he grows warmer to the town, and as he is leaving, he makes the excuse his car isn't fully fixed - Andy realizes what he is doing and goes along with the farce... allowing Malcolm to enjoy a night's stay in Mayberry.
Read more...


We are looking for people to help edit. If you would like to get started, we have the Pages needing attention page. If you need help from an admin, please feel free to contact me directly: QueenBuffy

If you have not heard, TAGS star Betty Lynn died October 16th at the age of 95. She played Thelma Lou on TAGS. Betty Lynn was an amazing person and lived in Mount Airy, NC, talkin…
See more >