(2 intermediate revisions by the same user not shown)
Line 4:
Line 4:
 

Actress Glenn Close said about the book, "How can the complexities of husband and wives, parents and children, brother to brother be contained between the pages of one book? It's impossible and yet ''The Boys'' touched me in such a way that the Howards' story---Rance, Jean, Ron and Clint—will continue, for a long time, to settle on my heart like soft rain. It is about life and show business and how one, famous family connected both--with passion, loyalty, respect and, most of all, love."

 

Actress Glenn Close said about the book, "How can the complexities of husband and wives, parents and children, brother to brother be contained between the pages of one book? It's impossible and yet ''The Boys'' touched me in such a way that the Howards' story---Rance, Jean, Ron and Clint—will continue, for a long time, to settle on my heart like soft rain. It is about life and show business and how one, famous family connected both--with passion, loyalty, respect and, most of all, love."

 
 
 
+

Available on [https://www.amazon.com/Boys-Memoir-Hollywood-Family/dp/006306524X/ref=sr_1_1?crid=35MEQOB8Q8LK7&dchild=1&keywords=ron+howard+the+boys&qid=1632516431&sprefix=ron+howard+the+boys%2Caps%2C174&sr=8-1 Amazon], October 12, 2021.

−

Available on Amazon, October 12, 2021.

 
 

[[Category:Blog posts]]

 

[[Category:Blog posts]]
---
Latest revision as of 20:49, 24 September 2021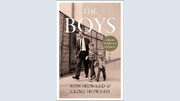 Ron Howard and his brother Clint Howard have just released a new book called "The Boys: A Memoir of Hollywood and Family", in which they discuss what it was like to grow up on TV.
Actress Glenn Close said about the book, "How can the complexities of husband and wives, parents and children, brother to brother be contained between the pages of one book? It's impossible and yet The Boys touched me in such a way that the Howards' story---Rance, Jean, Ron and Clint—will continue, for a long time, to settle on my heart like soft rain. It is about life and show business and how one, famous family connected both--with passion, loyalty, respect and, most of all, love."
Available on Amazon, October 12, 2021.